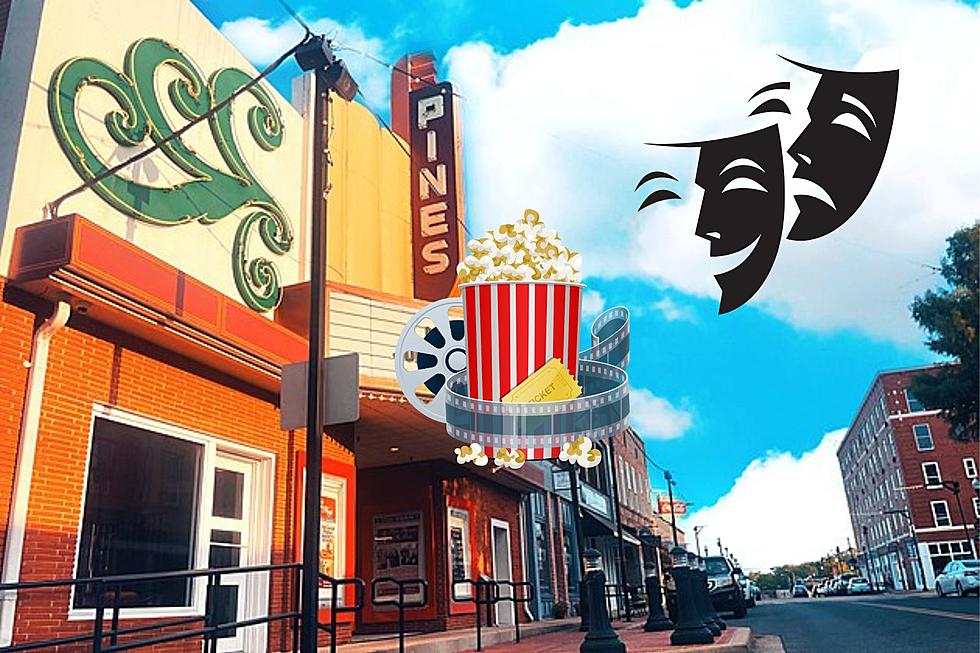 Pines Theater In Lufkin, Texas Brings Classic Movies For 2024
TSM Lufkin/canva
Classic Movie Series
Pines Theater in Downtown Lufkin
Full list of all of the classic movies
The Pines Theater was an amazing Lufkin landmark and is now a great attraction. The City of Lufkin, Texas got together with Real Graphics for a recent showing of Willy Wonka & the Chocolate Factory.
If I would have known they were doing it up like this, I would have been there for sure. Take a look at the photos from that night, keeping in mind that tickets are only $5.
Pines Theater In Lufkin Was A Sweet Time
The Pines Classic Film Series recently had a showing of Willy Wonka and The Chocolate Factory sponsored by Real Graphics.
There is still time to get in on some classic movies that they are showing in 2023. This year they are showing some amazing modern classics. Take a look at what is coming through the end of the year.
2023 Pines Theater Movie Lineup
The best thing about the Pines Theater is that the concessions and ticket prices are very reasonable. Tickets to these movies are only $5 and they are all on a Friday night at 7 PM.
The Pines Theater has taken a very different approach for the 2024 calendar year. When they say classic movies this time, they mean movies that are an approximate average of 72 years old.
A real master class of classic cinema, in an amazing theater that most likely had these exact same movies up on the screen when they were first released.
2024 Classic Movie Lineup At The Pines Theater In Lufkin
Movies everyone must see at least once in their life.
Some of these have been colorized since the first time they were shown. Even if you have seen them before, this is a way to go back and remember why they are the true classics of American cinema.
There are many ways to spend $5 in Lufkin, and I think this is by far the best bang for your buck. Check out a movie at the Pines; just get a ticket by CLICKING HERE. 
The Worst 2000s Movies, According to Letterboxd
According to users of the movie social networking site Letterboxd, these are the 20 worst feature films made in the 2000s.
The Worst Movies Released in August
Here are the worst cinematic disasters ever released at the end of summer.