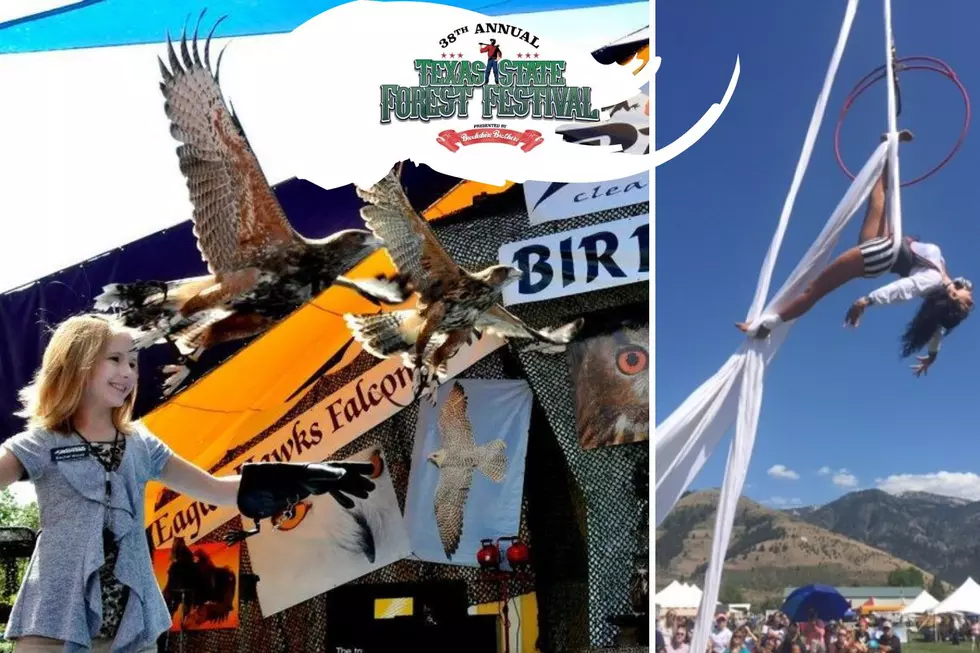 Exciting New Entertainment At The Texas State Forest Festival In Lufkin
Texas State Forest Festival via Facebook/Canva
Over the past few years, COVID left many of our favorite events in a revised or different configuration than what we were accustomed to. For 2022 the Texas State Forest Festival is back and unrestricted.
The 38th annual festival will be from Thursday, September 15th, 2022 - Sunday, September 18th, 2022 at the George H. Henderson Jr. Expo Center on the loop in Lufkin. Many local businesses come together to make this happen, and the presenting sponsor is Brookshire Brothers.
This Angelina County Chamber event is now taking advantage of the chance to make it even more enticing for you to attend. Many of your all-time favorites will be back, but there are new things for this year's event.
Pirates Of The Sky At Texas State Forest Festival In Lufkin
This will be the first appearance of the Pirates Of The Sky - Nerveless Nocks at the Texas State Forest Festival in Lufkin. This will be a one-of-a-kind family thrill show.
The Sky Pirates will be sliding upside down, hanging by their ankles on a high wire and silks. I like how the white silks are reminiscent of sails and really go with the sky pirates' theme of the show.
They will be performing 50 feet in the air, defying gravity on a revolving giant aerial anchor. Batton down the hatches for this new show at the forest festival.
Extreme Raptor Show At The Texas State Forest Festival in Lufkin
The Chamber is also very excited to bring the Extreme Raptor Show to the 38th Annual Forest Festival. They will bring the largest traveling collection of raptors in the world.
The show will include Eagles, Hawks, Falcons, and Owls from around the globe. The show is 30 minutes long and comes complete with special effects and a meet and greet after the show to see the birds up close.
Want to know more about all the events going on? Check out the Texas State Forest Festival by visiting texasforestfestival.com.
Texas State Fair Food Finalists - Would You Eat These Specialties?
YUM: Check Out These 12 Mouth-Watering Eats And Treats Coming To The Texas State Fair
KICKS 105 Angelina County Fair Interview Photos
Through the years, we've interviewed many youngsters who have done very well at the Angelina County Fair. Here are some of the kids we've interviewed on the Merrell in the Morning Show.
2021 State Fair of Texas Mouth Watering Food Preview
Get a preview of all of the delicious food you will get to enjoy at the 2021 State Fair of Texas in Dallas.