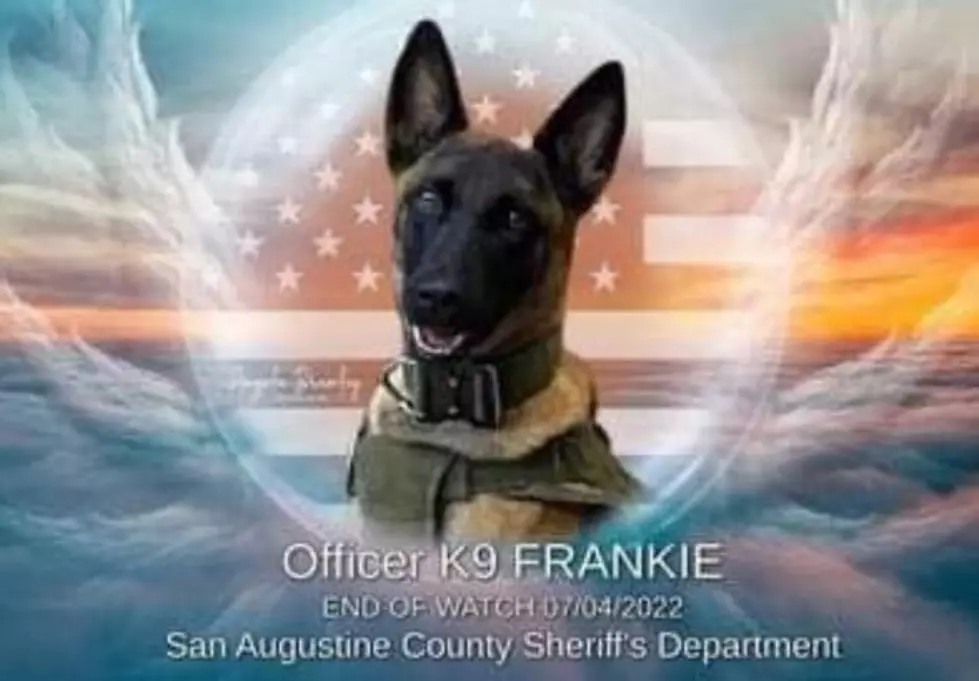 Benefit Set for New San Augustine K9 after the Loss of Frankie
Contributed Photo/SACSO, Banita Creek Hall
July 4th is supposed to be a day of celebration, however, for many in the law enforcement community of East Texas, it turned out to be a time of sadness and mourning. Frankie, a K9 Narcotics Officer with the San Augustine County Sheriff's Office had
escaped from her kennel and eventually was struck by a vehicle
.  She passed away from her injuries.
The loss of Frankie leaves a huge hole in the heart of many who knew her and worked with her.  There has also been an outpouring of support for both Frankie and the San Augustine County Sheriff's Office from many who did not know Frankie.  This very friendly officer will never be able to be replaced, but the loss of Frankie does present a need for another K9 officer for the San Augustine County Sheriff's Office (SACSO). Frankie was trained in passive alert on the odor of 5 different drugs, handler protection, patrol apprehension, vehicle bailout, building searches, tracking and evidence recovery. 
There are several official ways that you can help donate funds that will be used to help the SACSO obtain a new K9 officer. There is a
Go Fund Me page
 that has been set up. Plus, this Saturday night at
Banita Creek Hall
, ALL door proceeds from the night will be going towards the purchase of a new K9 officer for the department.  You are welcome to donate more money to this cause while you are at Banita Creek Hall on Saturday night.
Banita Creek Hall is located on Main Street in Nacogdoches, a couple of blocks west of the intersection with Business 59.
Lufkin, Texas - 10 Year Challenge
The 10-year challenge is getting quite the attention on social media. Let's take a look at how certain areas around Lufkin have changed over the past ten years or so.